Rebecca Corry Receives 2014 Wallace Award
October 1, 2014
Pit Bulletin Legal News (PBLN) has named Rebecca Corry the winner of the 2014 Wallace Award. PBLN presents this annual award to the individual that brings the most positive attention to pit-bull-type dogs and generates an atmosphere of change throughout the year.
PBLN chose Rebecca Corry because she had the audicity to look beyond the divisions in the pit bull advocacy community and endeavored to bring people together. She single handedly put together an event—The One Million Pibble March—that showed how much people support pit bulls and inspired people to travel from all over the country to meet and share their passion. She did this with neither a guarantee of success, nor funding, nor overwhelming support from the advocacy world. Further, after the event was over, she continued to advocate for pit bulls through her Stand Up for Pits Foundation.
Standing up for dogs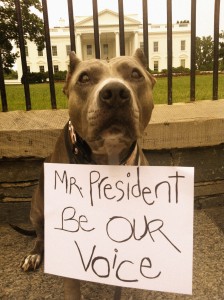 Rebecca is a 20-year veteran of the entertainment industry as a writer/actress and comedian. She has performed stand up comedy for NBC and Comedy Central and in clubs and theaters around the country. She has guest starred on several TV shows and appeared in movies
Rebecca is also founder and president of the Stand Up For Pits Foundation, Inc., and creator/producer of her live event, Stand Up For Pits. Stand Up For Pits has raised thousands for non-profit rescues around the country and provided education through laughter and positivity. She cites her dog Angel as the true founder of the Foundation. Rebecca created the Foundation because she is dedicated to ending discrimination and violence against Pit Bull Terriers and hopes to see it end in her lifetime.
Angel was also the inspiration for the One Million Pibble March on Washington, DC, in an effort to end BDL (breed-discriminatory legislation) and dog fighting and by doing so, create safe and humane communities for humans and animals. Rebecca organized the March single-handedly, and in doing so, faced not only the attacks of pro-BDL advocates but criticism and pessimism from within the pit bull and anti-BDL advocacy community.
The One Million Pibble March was held on May 3, 2014. Rebecca described the year spend organizing the March as excruciating, but the end result as magical. Thousands of dog lovers came together to show their support for pit bulls and breed-neutral dog laws. Speakers included Roo Yori, Leah Brewer, and Jamie Buehrle, among many others.
Learn More About Rebecca Corry
List of 2014 Wallace Award Nominees
PBLN faced a tough decision in choosing the 2014 Wallace Award Recipient! The full list of 2014 nominees was:
Rebecca Corry, Stand Up for Pits Foundation
Leddy VanKavage, Best Friends
Deirdre Franklin, Pinups for Pit Bulls
Cynthia Bathurst, Safe Humane Chicago
Kim Wolf, Beyond Breed and Ruff Riders
Arin Greenwood, Huffington Post
Jeff Pitbear, Up the Pups
Nancy Sklencar, Pinups for Pitbulls.
Johanna Falber, Stubby's Heroes
Valerie Bruder, photographer
Leah Brewer and Elle (dog)
Major (dog), psychiatric service dog
Fifty (dog), "The Two-Legged Pit Bull"
Lola (dog), breed ambassador for Pitter Patter, therapy dog
Crazy Pit Bull Lady-Pit Bull Rescue